E-WASTE POLICY
The electrical and electronic waste (e-waste) is one of the fastest growing waste streams in the world. At XOR Technologies LLP, we sincerely believe that it is our responsibility to do business in such a manner that it benefits our people and planet
XOR TECHNOLOGIES LLP seeks shared responsibility and cooperation from customers in reducing the environmental impact of their products.
XOR TECHNOLOGIES LLP will comply with all the applicable laws related to e-waste management.
As part of the e-waste recycling initiative, XOR TECHNOLOGIES LLP reaffirms its commitment to environmental protection by ensuring proper disposal of e-waste/e-waste management. XOR TECHNOLOGIES LLP has partnered with an authorized e-waste dismantler/recycler for facilitating proper disposal of E-waste being generated internally as well as by our customers to dispose off their 'End of Life' products for disposal/recycling in an environmentally safe manner. Customers are requested to carry in their portable 'End of Life' products and drop it at the nearest collection center. XOR TECHNOLOGIES LLP sincerely urges customers to come forward and join us in this initiative.
---
E-Waste Partner
Greenscape Eco Management Pvt. Ltd.
512, Elegance Tower, Non-Hierarchical Commercial Center, Jasola, New Delhi – 110025 , Phone: +911140515662, Email: info@greenscape-eco.com
E-WASTE COLLECTION POINT
XOR TECHNOLOGIES LLP, A-40, Mayapuri Industrial Area, Phase-1, New Delhi-110064, Tel: 011 28115027
DO'S AND DON'TS FOR DISPOSAL OF XOR TECHNOLOGIES LLP PRODUCTS
Do's:
1. Always drop your used electronic products, batteries, and packaging materials after the end of their life at the nearest collection point.
2. Please hand over e-waste only at the designated collection center of the Brand.
3. Please drop your scrap electronic parts, handed back to you after replacement with the new part, at the e-waste drop box in the service center.
4. Please register that as an individual we all have Individual Responsibility towards the conservation of our environment.
Don'ts
1. Please do not throw any electronics (including batteries) into the garbage bin.
2. Please do not sell e-waste to scrap dealers or unauthorized agents for little/some cash.
3. Please do not dispose of e-waste in landfills or in pits as an ill-treasure for your next generation
4. Please do not open unused electronics without expert supervision, as it can be hazardous.
The importance of the crossed wheeled bin logo is below: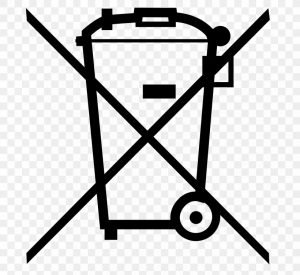 This symbol appearing in any product indicates that when the end-user wishes to discard this product, it must be sent to separate collection facilities for recovery and recycling. By separating this product from other household-type waste, the volume of waste sent to incinerators or landfills will be reduced and natural resources will thus be conserved.